2012 Toyota Camry Arrives In The Albany NY Area
At Lia Toyota of Colonie
Find Price, Photos, Info & More!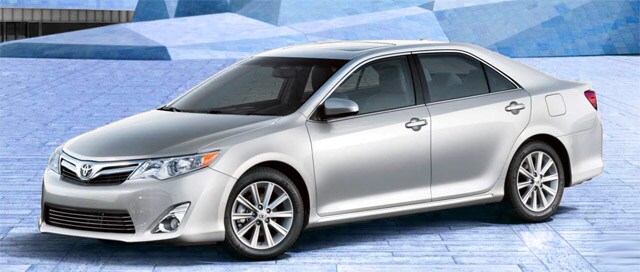 Thanks, for stopping by our web site to learn more about the 2012 Toyota Camry. We're glad to be one of the Albany Toyota dealers to offer the most popular sedan, the 2012 Toyota Camry, for sale and lease. You'll find plenty of information not only on this page but also throughout our site for the 2012 Camry. So whether you're looking to see our new Camry inventory & available stock on our lot or what the 2012 Camry lease offers, rebates and video specials we're offering at Lia Toyota of Colonie right now, and live in the Albany area you've come to the right place. We encourage you to utilize our online resources throughout our site, such as Scheduling A Test Drive, Calculating Payments, New Toyota Video Showroom and many other tools we've made available to our valued customers to help make your 2012 Camry research, buying or leasing enjoyable. And remember, our dealership is one of the best choices for the 2012 Camry out of all the Albany Toyota dealers around The Capital District.

"The all-new 2012 Camry blends an evolution of the car's value's -- such as comfort, efficiency, reliability and safety -- with a more appealing design and engaging driver experience."

-Bob Carter
Toyota Division Group VP and General Manager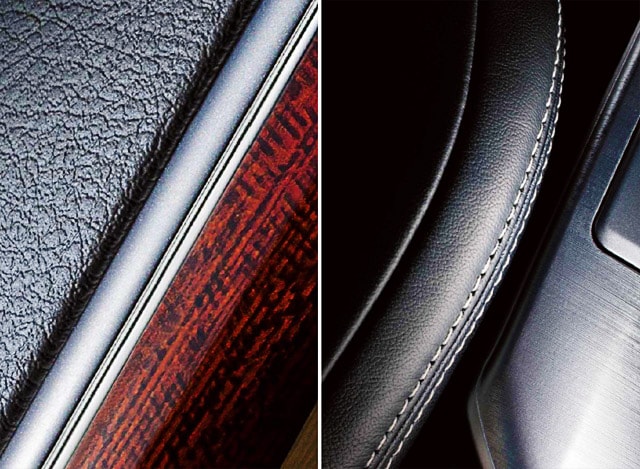 The 2012 Camry Is Elegantly Simple, Architecturally Precise & Priced Just Right
The new 2012 Toyota Camry is amazing in every aspect. From daily driving practicality, to excitement behind the wheel, you'll find it all at an affordable price. Here's an overview of what you can expect to find in the 2012 Camry.
-Lean Design shows to be slightly wider and lower to support a lower coefficient drag
-Engaging Driving Dynamic such as the Sport mode paddle shifters in the SE model
-Advanced Safety and Security Features include 10 airbags, Start Safety System and much more.
-New Entune™ Multimedia System that gives drivers more control and versatility
-New Vehicle Trim Configuration will allow buyers more options and affordability in the Hybrid segment.
Continue Reading To Learn More Details and find the perfect 2012 Camry for you.
The History Of The 2012 Camry
The new 2012 Toyota Camry has roots leading back to 1983, the year it was introduced in the US market. Since then the Camry has has set the bar for the mid-size sedan class in the entire automotive industry. With more than 15 million Camry models sold worldwide it's no surprise you're interested in one of the most popular means of transportation on the entire planet. Checking out what you can find at Lia Toyota of Colonie, your Albany & Schenectady, NY area dealership could land you the best deal on a 2012 Camry.
Did you know?
The Toyota Camry has been America's best selling car for nine years running and 13 of the past 14 years.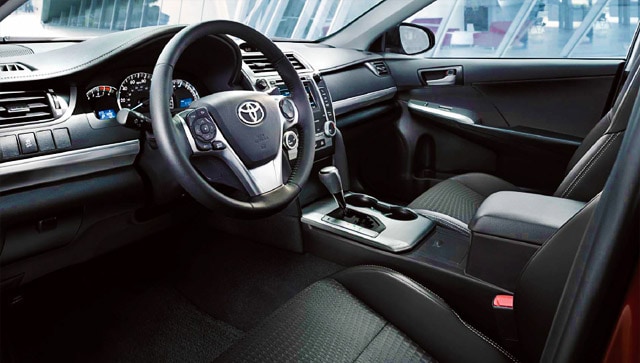 2012 Camry L - Schenectady & Albany NY | Lia Toyota of Colonie NY
Starting at $21,955 MSRP[1], the 2012 Camry L is the newest edition to the Camry line up, and one that we're excited to have for sale at our Albany NY Toyota dealership. Taking the important role of Entry Level position for the 2012 Camry line up there's every reason to be ecstatic about the Camry L model. It caries the newly designed and Reinvented exterior with a wider, lower stance. The body lines are crisp and precise adding more appeal to it's overall style. The new 2012 Camry L also boasts features in both safety and convenience categories, which include a 10 Airbag safety system [2], BLU Logic® Hands-Free System [3] and lastly, a 60/40 split fold down rear seat and fold down center armrest with cup holders. The 2012 Camry L may be the entry level option for the Camry line, but is clearly far ahead of many other mid size sedans.
2012 Camry LE - Schenectady & Albany NY | Lia Toyota of Colonie NY
Starting at $22,500 MSRP[1], the 2012 Camry LE trim option introduces some of the nicer amenities, like an available power driver seat, that you might be looking for in your new sedan. One of the most remarkable safety enhancements made for the 2012 model year is an amazing 10 airbag system that has been added to the Star Safety System™. Fuel Efficiency without sacrificing pep and horsepower was well thought out by the Toyota engineers who decided on the 2.5-liter DOHC 16-valve 4-cylinder engine and 6 speed Electronically Controlled automatic transmission with Intelligence (ECT-i) that together produce an astounding 178-horsepower with mpg ratings of 25 City/35 Highway/28 Combined, which is quite impressive for this front wheel drive sedan. The 6.1 Touch Screen Audio display has also been added to the standard feature list, so be sure to see the availability or additional cost when making your comparison between the 2012 Camry and other similar vehicles. The largest upgrade available for the LE is the option for a Power Sunroof with one touch open/close and jam protection.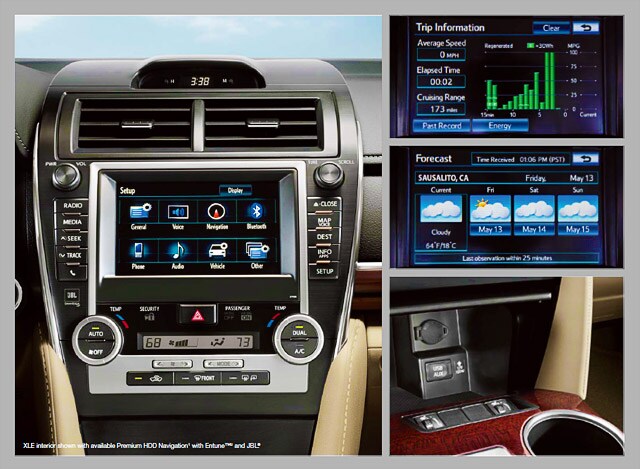 2012 Camry LE Hybrid - Schenectady & Albany NY | Lia Toyota of Colonie NY
Starting at $25,900 MSRP[1], the Camry Hybrid LE is one of the newest editions to the 2012 Camry line and brings fuel efficiency that you would expect to see in a compact car. Of course you won't have to worry about losing any of the traditional comforts found in a mid-size car, which is quite nice. In fact, you'll find some very nice upgrades in the 2012 Camry Hybrid LE from the gasoline version of the LE in addition to the amazing fuel efficiency and safety features. The Hybrid LE Camry is appointed with Toyota's Smart Key System which works seamlessly with front doors and trunk as well as the Push Button Start and remote illuminated entry. The drive system consists of a Hybrid Engine and 2.5-liter DOHC 16-valve 4-cylinder with Variable Valve Timing with Intelligence (VVT-i). The 2012 Camry Hybrid LE is rated at 43 City/39 Highway 41 Combined MPG.
2012 Camry SE - Schenectady & Albany NY | Lia Toyota of Colonie NY
Starting at $23,000 MSRP[1], the SE option introduces the sporty side of the 2012 Camry and includes standard sport-tuned suspension and steering wheel mounted paddle shifters for starters. The paddle shifters are cutting edge in the sense that they can be engaged while in D mode for sequential shifting. When in S mode shift times will be reduced for a more responsive and sporty driving experience. The interior has also been enhanced with Sport fabric SofTex-trimmed front seats, and an available Display Audio with Navigation and Entune™ with 6 speakers. The 2012 Camry SE will be available in either a 2.5-liter 4 cylinder or 3.5-liter V6 that delivers 268 horsepower. Either of the engine options will come with a 6 speed automatic transmission. to support the sportiness of the SE.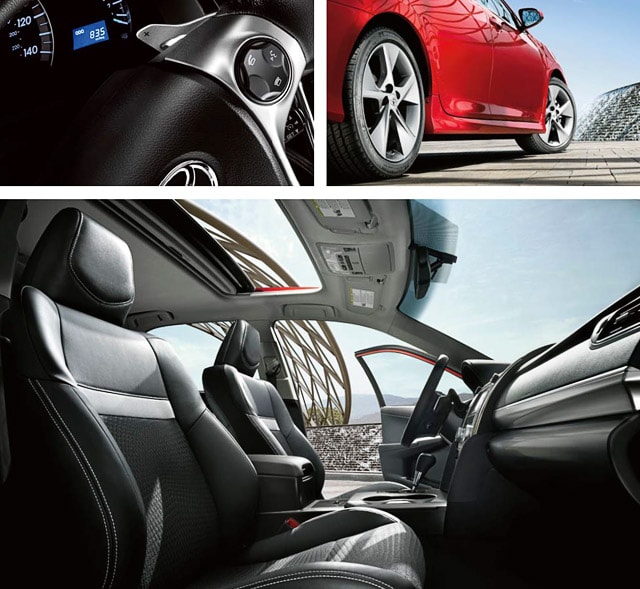 2012 Camry XLE & Hybrid XLE - Schenectady & Albany NY | Lia Toyota of Colonie NY
Starting at $24,725 MSRP[1], the XLE has always been the Flagship Camry and brings buyers a level of luxury that they may not expect to find in a Toyota Camry. Features such as leather seats (standard on V6), dual-zone climate control, available Premium HDD Navigation with Entunre™ and JBL® are clear indicators that you're not behind the wheel of a plain or boring midsize car. Choose between a 4 or 6-cylinder engine. There's also a Camry XLE option for the more eco-friendly Hybrid buyer that will deliver amazing fuel efficiency as well as added comfort.
About Lia Toyota of Colonie - An Albany Toyota Dealer For Sales, Service & Toyota Parts
Lia Toyota of Colonie proudly serves the Albany, Schenectady and Colonie NY area Toyota shoppers. Our professional staff will help you find the best new, certified or used Toyota in Albany NY and assist you with Auto Financing, Toyota Leasing as well as Toyota Repairs. You can read more about our Albany Toyota dealership or stop by 2116 Central Ave, Schenectady, NY 12304.